---
Where Our Name Came From
All the beauty in the world comes from the Lord and it is HIS PALETTE of colors we want to embrace and use in our own relationship with Him.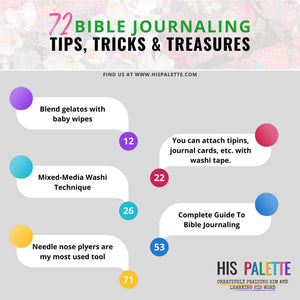 72 Bible Journaling Tips, Tricks, and Treasures
So you think, "Praise the Lord! Finally, I have this Bible journaling thing figured out!" Then you scroll through Pinterest, Facebook or Instagram and realize the creative world really is like a ginormous iceberg and we are only seeing the tip. Truth is, I don't know if people will ever stop being able to think up new stuff.

Rest assure, this post is not about a new complicated technique or process. It's not about a bunch of products or kits I think you should buy.

Here you will find some tips, tricks, and treasures I've discovered over the last six years, on my own creative worship journey. Some you may have heard before. But I hope most of what you read will simply assist you with where you already are in your Bible journaling journey.
Read More
How To Bible Journal in a Notebook
So you love the way Bible journaling looks overall. You would love to try your hand at this type of journaling. However, you either are not comfortable marking in your Bible, you prefer to keep your notes and art in a separate "journal," or for whatever reason, you do not want to work in a journaling Bible. Or maybe it's as simple as finances, and you can't spend money on an extra Bible specifically to journal in.

Can you still Bible journal? YES. YOU. CAN.
Read More